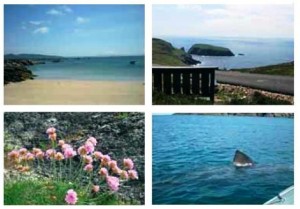 Places of Interest
The Glen Hotel
The Glen House was the home of the former landlord John Stoupe Charley. It became the island's first hotel in 1928 and among its first guests were the Aran Islands writer Liam O'Flaherty and his wife who visited the island whilst on honeymoon.
Former Mill (18th century) at the top of the ferry pier at Leadhb Gharbh.
Former Courthouse Built at Fál an Ghabhann circa 1855.
The Old Graveyard at Trá an Chaisil in the south of the island was given to the islanders in 1725 to bury their dead following the tragic drowning of nine people on their way to a funeral on the mainland. A new graveyard replaced it in 1893.
Uaimh an Air (Cave of slaughter)  located on private lands, at Uillinn in the south of the island, near a prehistoric promontory fort. Local lore has it that a Cromwellian captain slaughtered 70 women and children who had taken refuge here in 1641.
Mass Rock. Plochóg
Árainn Mhór & Beaver Island Memorial, Loch an Chomhanaigh. Several hundred emigrants from Árainn Mhór settled on Beaver Island in Lake Michigan, USA, after the famine in 1851 , and both communities still exchange visits. Árainn Mhór is now twinned with Beaver Island. The memorial was built in 2000.
Famine Memorial at Arranmore Holiday Village
The Lighthouse, at Rinawros Point, was first built in 1798. Donegal's first lighthouse, it was rebuilt in 1865 and was manned by keepers until fully automated in 1976. Rock arches and sea caves can be seen nearby.
The Old Coastguard Station (derelict) is located adjacent to the lighthouse lot. It was burned down during the Civil War in 1922.
Loch an Chomhanaigh – Cowan's Lake was named after a land steward who had a house there. The lake serves as the island's reservoir and it is one of the few lakes in Europe where rainbow trout breed naturally. The trout were introduced from Canada in the early 1900s.
Cnoc an lolair – hill of the eagle (750ft) is the island's highest point. White-tailed Sea Eagles bred here in the past.
Cliffs up to 120 metres high all along the west and north coasts of the island.
Na Tri Mic Ó gCorra-The Three Stags. Three sea-stacks situated to the north between Toraigh and Árainn Mhór. In mythology they are said to be a pagan sister and two brothers who were turned to stone by St Colmcille as they leapt into the sea at Toraigh in an attempt to swim to Árainn Mhór or the mainland.