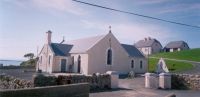 St Crone's Church – Teach Pobail Naomh Cróine
St Crone's Church is situated at the crossroads bordering the townlands of Illion and Ballintra.
In 1917, an extension was added to the church. Fr. John MacIntyre was curate in Arranmore at the time and he worked tirelessly to have the extension work completed. He paid meticulous attention to the renovation and construction of churches in each of the parishes he was sent to.  The parochial house was built in 1908 by Fr. Eddie Doherty.
The church on Arranmore also catered for the inhabitants of Inis Caorach, the last inhabitants left the island in 1955. During the days of the English penal laws, masses were held in secret at the site of mass rocks. There are three such sites on Arranmore; Ard an Aifrinn in Poll an Mhadaidh, Béal an Chaisil in Goirt Gearra and Malaigh na hAltóra in Plochóg.
Weekend Service
Saturday Evening Mass 7:00pm – Sunday Morning Mass 11:00am
Tel: 074 9520504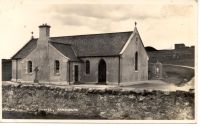 Tá Teach an Phobail suite ag an chrosbhealach idir bhaile fearainn Uillinne agus Bhaile an tSratha. Tógadh an chéad Teach Pobail ar Árainn Mhór sa bhliain 1825. Cuireadh píosa leis sa bhliain 1917, le linn don Ath Seán Mac an tSaoir a bheith ina shagart cúnta ar an oileán.  Fear díograiseach a bhí sa tsagart sin agus d'oibrigh sé go dian, fiú ag tabhairt lámh chuidithe leis an obair thógála.  Tógadh Teach an tSagairt sa bhliain 1908, in am an Ath. Eddie Ó Dochartaigh.
Rinne an teach pobail seo freastal ar mhuintir Inis Caorach fosta go dtí gur tréigeadh and t-oileán sin sa bhliain 1955.  In aimsir Phéindlíthe na Sasana, ba ghnách an Aifreann a éisteacht faoi cheilt ag cloch Aifrinn i bPoll an Mhadaidh, Beál an Chaisil i mbaile fearainn Na Goirt Ghearra agus an tríú ceann Malaidh na hAltóra, i bPlochóg.
Seirbhísí Deireadh Seachtaine
Tráthnóna Dé Sathairn 7:00in – Maidin Dé Domhnaigh 11.00rn
Fón: 074 9520504