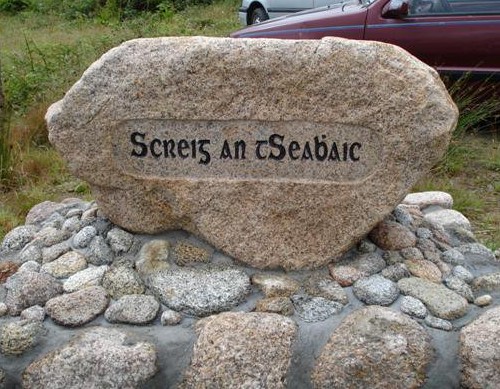 Logainmneacha na mBailte Fearainn – The Townlands
The Townlands
Árainn Mhór is divided into thirteen townlands. The names of the townlands originate from the Irish language with the physical characteristics of the area influencing the naming of that area.
An Leadhb Gharbh – Leabgarrow
Leadhb – a piece of land. Gharbh – rough.
Located in Leadhb Gharbh: Ferryboat quay, Leadhb Gharbh Pier, Boat House  Beach Bites, No 1 National School (Naomh Colmcille), Gairmscoil Mhic Diarmada, The Post Office, The Cove Café & B&B, The Glen Hotel Árainn Mhór Hostel, Phil Bán's Shop & Bar, Early's Pier Bar & Lounge, Boyle's Nite Club & Bar, Ailleacht Cois Farraige.
Poll an Mhadaigh – Pollawaddy
Poll an Mhadaigh
Poll – harbour, an Mhadaigh – of dogs
Many of the first islanders sent to Beaver Island by the Landlord, John Stoupe Charley were from Poll an Mhadaigh. Located in Poll an Mhadaigh:
Arranmore Lifeboat Station, opened in 1997 by Daniel O'Donnell.
Scraig an tSeabhaic – Screig
Scraig – rock, tSeabhaic – of the hawk.
Báigh Bhéal an Chraoise is located off Scraig.
Na Goirt Ghearra – Gortgar
Goirt – fields, Ghearra – short. At the crossroads in Gortgarra there is a hill known as Pinkie Hill. It was so named following the return from Scotland of young local girls wearing pink dresses!
An Cloch Corr – Clochcor
Cloch – stone or boulder, corr – rounded or projecting.
Located in Cloghcor: Comharchumann Árainn Mhór Teo,  Coláiste Árainn Mhór.
Fál an Ghabhann – Fallagowan
Fál – hedge or barrier, Ghabhann – smith.
Located in Fál an Ghabhann: The Holiday Village. (Opened in 1997 by Jean Kennedy-Smith), The Courthouse (1855)
Baile an tSratha – Ballintra
Baile – village or townland, tSratha – low-lying land along a river or lake.
Located in Baile an tSratha: Neily's Shop & Bar, The Day Care Centre.
 Baile Ard – Ballard
Baile – village or townland
Ard – high.
Uileann – Illion
Uileann – elbow or corner.
The Church of St Crone's (built in 1825 and extended in 1917) borders the townlands of Illion and Ballintra.
Plochóg – Plohogue
Plochóg – hallow.
The townland of Plochóg is a 1/4 mile in length.
Located in Plochóg: Malaigh na hAltóra – The Mass Rock.  In 1995, Fr. Jimmy Shiels unveiled a plaque at the site to commemorate the Arranmore Disaster of 1935, and the Great Hunger of 1845.
 Leadhb Rannagh – Leabrannagh
Leadhb – a piece of land
Reannagh – headland.
Located in An Leadhb Reannagh: No 2 National School (Naomh Cróna),  Reannach Park soccer pitch, home to Arranmore United.
Athphort – Aphort
Athphort – out-port. The predominant language spoken in Athphort is Gaeilge.
Na Tuarthaí-Torries
Tuar – dry, or it can also mean a ploughed field into which sheep are put.  Granite was quarried in Torries and taken by horse and cart to build the lighthouse.
Logainmneacha na mBailte Fearainn
Tá trí cinn déag de bhailte fearainn ar Árainn Mhór:
An Leadhb Gharbh
Tá sráidbhaile gnóthach anseo agus is ann a thagann an bád farantóireachta i dtír. Tá cuid mhór d'áiseanna an oileáin lonnaithe ar An Leadhb Gharbh – scoil náisiúnta Uimh. 1, Gairmscoil Mhic Diarmada, Oifig an Phoist agus Óstán an Ghleanna. Lena chois sin, tá teach lóistín agus bialann Uí Chnáimhsí ann, Brú Óige, siopa grósaera agus tábhairne Phil Uí Bhaoill, teach leanna Uí Luaitheirí agus halla rince/club oíche agus tábhairne Uí Bhaoill.
Poll a'Mhadaidh
Baile fearainn mór é seo a fuair a ainm ó pholl, nó uaimh, a bhí mar ghnáthóg ag dobharchúnna. B'as Poll a' Mhadaidh cuid mhaith de na chéad daoine a dhíbir an tiarna talaimh, John Stoupe Charley, as an oileán agus a chuaigh go hOileán Béabhair. Ba é an ceoltóir clúiteach, Daniel O'Donnell, a d'oscail Stáisiún úr Bhád Tarrthála Árainn Mhóir i bPoll a' Mhadaidh sa bhliain 1997.
Screig an tSeabhaic
Tá an baile fearainn cnocach caoránach seo ar thaobh na láimhe clé de chrosbhealach Pholl a'Mhadaidh, síos a fhad le Bá Bhéal a'Chraoise, áit a bhfuil uaigh ghlas inar hadhlacadh triúr anaithnid a fuarthas báite ar an chladach ag deireadh an naoú haois déag.
Na Goirt Ghearra
Tá cnoc ag taobh an chrosbhealaigh sa cheantar seo ar a dtugtar 'Pinky Hill' as, siocair gur ghnách le cailíní óga a bhíodh i ndiaidh filleadh as Albain, a theacht le chéile ann. Bhíodh cultacha deasa bándearga orthu uilig, is cosúil!
An Cloch Corr
Tugtar Na Clocha Corra ar an bhaile fearainn seo fosta. Tá cuid mhór clocha eibhir san áit ach tá ceann amháin a bhfuil imir ghorm inti atá neamhchosúil leis na cinn eile. Tá Comharchumann Oileán Árainn Mhór agus Coláiste Árainn Mhór suite ar An Chloch Chorr.
Fál an Ghabhann
Bhí gabhann d'ainmhithe anseo agus duine ar bith nach raibh ábalta a gcíos a íoc leis an tiarna talaimh, chuirtí a gcuid ainmhithe isteach sa ghabhann go dtí go mbeadh ar a gcumas íoc ar a son. Bhí Teach na Cúirte, a tógadh sa bhliain 1855, anseo chomh maith agus bhaintí úsáid as mar phríosún. Tá sráidbhaile saoire suite anseo anois agus ba í Jean Kennedy Smith a rinne an oscailt oifigiúil air sa bhliain 1997.
Baile an tSrátha
Is i mBaile an tSrátha atá an tIonad Lae suite. Tá siopa grósaera agus teach tábhairne Néilidh suite sa bhaile íseal seo chomh maith.
An Baile Ard
Tá eas bheag dheas sa cheantar seo (An Ailt) ach ní féidir fáil a fhad léi le fada an lá.
An Uileann
Tá An Uileann Íochtarach agus An Uileann Uachtarach ann.
Plochóg
Sa bhaile fearainn seo, atá ceathrú míle ar fhad, is ar iascaireacht agus ar fheirmeoireacht is mó a mhaireann na daoine. Suite sa bhaile seo tá Teach Óstán Árainn Mhóir. Tá cloch Aifrinn, ar a dtugtar Malaidh na hAltóra, san áit agus sa bhliain 1995, chuir an tAth Jimí Ó Siail suas cloch chuimhneacháin ag taobh na haltóra don mhuintir a bádh in 1935 agus i gcuimhne an Ghorta Mhóir, 1845.
Leadhb Rannach
Tógadh an dara bunscoil atá ar an oileán i Leadhb Reannach sa bhliain 1915. Anseo fosta, tá áis tuirlingthe an héileacaptair agus páirc sacair an oileáin – páirc bhaile Arranmore United.
Athphort
Tá muintir Athphoirt iontach dílis don Ghaeilge i gcónaí.
Na Tuarthaí
Baintear úsáid as an fhocal 'tuar' go leitheadach in Árainn Mhór – ag tagairt d' éadach a bheadh amuigh ar triomú nó ar tuar. D'fhéadfadh sé fosta gur páirceanna caorach atá i gceist san ainm. Ba sna Tuarthaí a baineadh an t-eibhear lenar tógadh Teach an tSolais. I ndiaidh á mbainte, tugadh na clocha ansin a fhad le suíomh theach an tsolais le capall agus carr