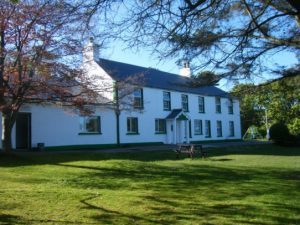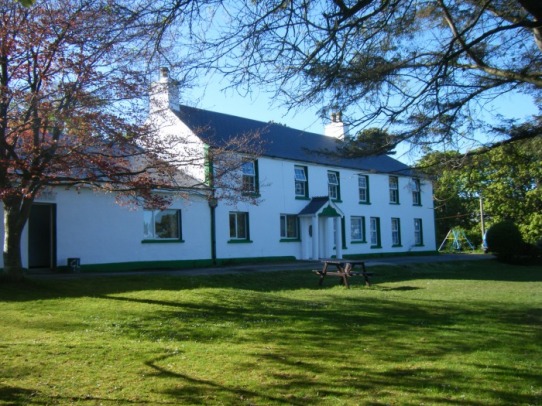 The Glen Hotel
With a sheltered setting of mature trees, the Glen Hotel is family-run establishment and offers sweeping views of West Donegal.  The history of the hotel dates back to the 1850s. An perfect place to relax and take in the views of the Atlantic and hear about the history of the former landlord residence.
Contact: Anne Marie Boyle
T: +353 74 9520505
Killeen's of Arranmore – Temporarily Closed
Magnificant views overlooking Athphort Beach & Bay.  Ensuite bedrooms, function room, public bar and restaurant. 
Contact: Paraig & Cynthia
Tel: +353 74 9520918
www.killeensofarranmore.com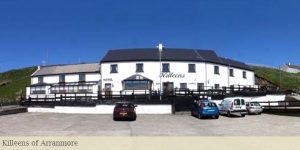 Self Catering – Iostas Féinfhreastail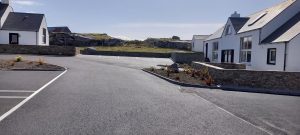 Arranmore Holiday Village
Arranmore Holiday Village is conveniently located two kilometres from the ferry pier.  The village is just a couple of minutes' walk from 'Scoilt na Loinge' beach which is one of many beaches on the island.
If you're searching for an Irish self-catering experience that will have great services and facilities, you'll be glad to know that Arranmore Holiday Village is quality assured by Fáilte Ireland. This is an independent assessment of what you can expect to find when choosing a self-catering experience.
Former Lighthouse Keeper Dwellings
The semi-detached dwellings have three bedrooms each.  Spectacular sea cliff scenery in tranquil surroundings, located 5km from the harbour area. The accommodation comprises lounge, kitchen, pantry, utility and shower room.
Contact: Fiona Boner
T: +353 74 9125635
E: fionaboner@gmail.com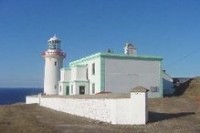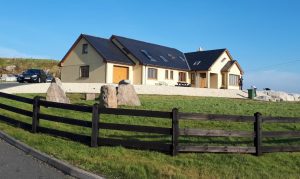 Annette's 
Large, spacious, self catering property located in a scenic and elevated position in Fál an Ghabhann.  All modern conveniences.  Adjacent to children's playground. The accommodation can cater for 8 persons.
Contact: Annette
T: 087 2440279
E: annettearranmore@gmail.com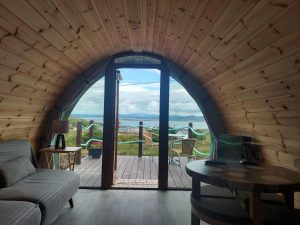 Arranmore Glamping
Each lodge enjoys sea and coastal views from the fully glazed gable
Fully insulated. En-suite shower room/toilet. Comfortable double bed.
Fridge, Microwave, Kettle, Toaster.
Linen and towels supplied.
T: 087 9081277
E: nmuldowneyie@yahoo.co.uk
Arranmore Pods
Offering luxury pods which sleep up to 3 adults or 2 adults and 2 children
table and chairs
double bed and sofa bed
kitchenette
wc & shower
heater
tv/dvd
fridge
Bed linen and towels supplied
T: +44 7711 785750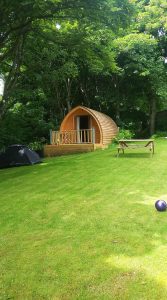 Bed & Breakfast – Leaba & Bricfeasta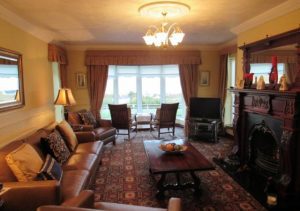 Muldowney's B&B
From it's elevated position, the property  provides excellent views of the Atlantic, the North Western coastline and mountains. Located in a quiet and peaceful location, Muldowney's B&B features spacious, comfortable en-suite bedrooms and common spaces with panoramic views of the sea.
Contact: Noreen
T: +353 87 9081277
Early's B&B
Early's is a modern B&B,  located in an elevated position with stunning views over the bay.   En-suite rooms,  comfortable and  tastefully decorated.
Contact: Pat & Jerry
T: +353 74 952 0988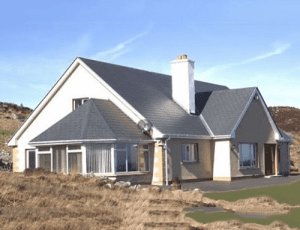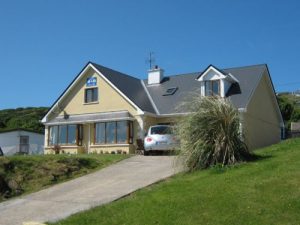 Claire's B&B
Family run B&B, adjacent to the ferry pier and within a few minutes walk of the village. Excellent views of the bay. En suite rooms include TV, WiFi, tea & coffee making facilities.
Contact: Claire
T: +353 74 9520042
M: 086 0518696
E: clairelouisegee@yahoo.com
Hughie Mickey Dan's Bed & Breakfast
Hughie Mickey Dan's has 8 en-suite bedrooms with tea & coffee making facilities. Indoor and outdoor breakfast dining options with beautiful beach side views.
Contact: Pat
T: 087 1199066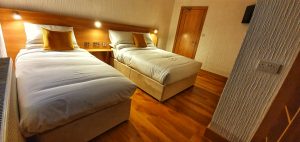 https://arranmoreisland.ie/arranmore-holiday-village-touring-park/